Get the complete guide to building a surface design business.
If you're ready to turn your passion for design into a successful business, this is the course for you.
Longina Phillips is loved and used by:
We'll hold your hand and take you inside the fabulous world of the Longina Phillips Design studio where we share with you the insider success secrets that we've never shared before.
Like many of our students you might question how to make a full-time wage out of design.
Or wonder if your work is even good enough to monetise on a global scale.

The truth is, if you don't learn the actual steps needed to run a profitable business, your #sidehustle will remain just that, on the side.



Here at Longina Phillips Designs we're passionate about helping designers of all levels demystify the business side of design and gain much-needed confidence, whilst fast-tracking your design career. 

   


If you're ready to turn your love of design into a successful business, then let us show you the exact steps that we use to this day. 
Building a surface design business is tough.

It's competitive and time-consuming. And if you're creative, the business side of things may not come very naturally.
What our clients say about us
 

The Comprehensive Business Builder for Surface Designers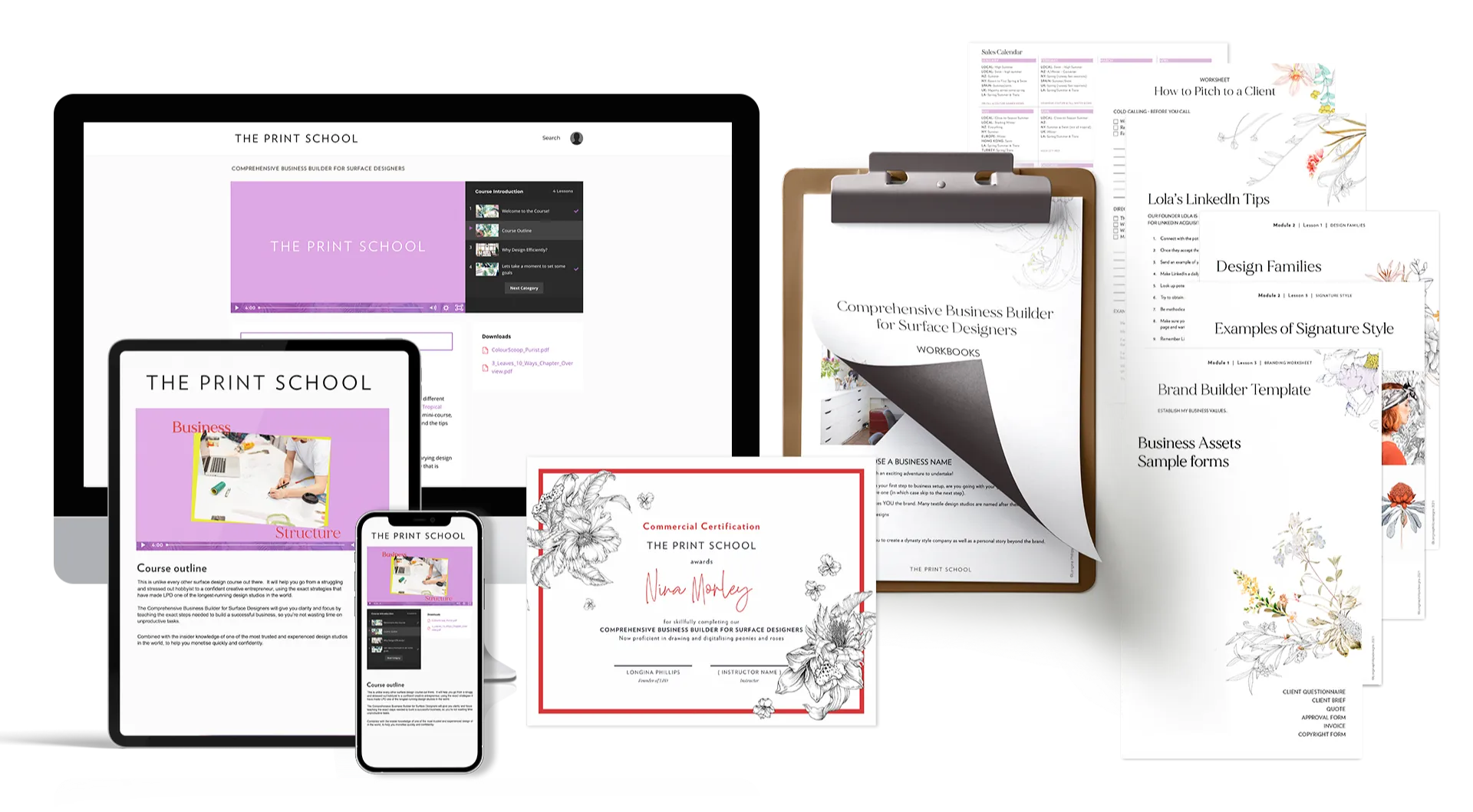 This course is for anyone with a passion for surface design that is looking for the confidence and clarity to bring their work to market quickly.  
Whether you're just getting started, or if you've been designing for a while this will work for you. 
Will give you clarity and focus by teaching the exact steps needed to build a successful business, so you're not wasting time on unproductive tasks. 
Will help you go from a struggling and stressed out hobbyist to a confident creative entrepreneur

, using the exact strategies that have made LPD one of the longest-running design studios in the world.

 
Combines the insider knowledge of one of the most trusted and experienced design studios in the world, to 

help you monetise quickly and confidently.

 
What's waiting for you when you join the Comprehensive Business Builder for Surface Designers.
There are 5 business-building modules with a total of
27 videos

an accompanying workbook for each lesson. 

Available on our custom-built online platform, accessible 24/7 from a phone or a desktop.

Each video is under 20 minutes - easy to fit around your existing commitments. 
Module one
The business of design
Module three
Monetising your creativity
Module four
Selling your collection
and then...

Let's celebrate. You did it!

The business of design 
Discover the 5 different markets you can earn as a Surface Designer
Learn the pros and cons of each market so that you can have much-needed confidence and clarity and ensure you're choosing the best niche for your unique skills and abilities.

 

The secret to creating an irresistible brand that showcases your unique personality and makes competition irrelevant. 

Register your business.

 

Build a stunning website to showcase your work.

 

Implement the legal and copyright terms and conditions that every designer must know to protect themselves. 
"This lesson is the most important!  So happy to know how to manage this aspect of the business!!" Paula, Module 1, Lesson 7
"I LOVE my classes!!! They have really sparked something in me that I thought I had lost. Thank you so much for everything :)" Courtney
Designing you
Where the Longina Phillips Studio looks for inspiration.

 

How to translate that trend into a commercially viable design that the big brands will love. 

 

How to develop your Signature style as a designer.

 

How to transform one stunning design into an entire collection of sale-worthy designs. 

 

The insider advice that every designer needs in order to know what makes a great design.

 

What you should always avoid when creating art for sale. 
"The Business Course has been such a great nudge for me to get started on getting my designs out of my sketchbooks and up on-site for sale." Dee Gavin
"The information shared here about pricing I have not heard from anyone else teaching Surface Pattern/print design. This is why this course is GOLD, but also why Longina Phillips Designs is at the top of the game in print design...LPD has the gems!"  Tessa

Monetizing your creativity
A complete breakdown of all the different ways you can earn money as a surface designer.
Licensing

Commission work

Charging per design

A breakdown on which way will best suit your natural design abilities. 
"My experience in Print School so far has been fantastic. More than any other training I've taken, yours are the ones that have elevated my skills to a more professional level. I've purchased every one of your courses so far." Zoe Watson
Selling your collection
The insider success secrets that the Longina Phillips Design team use to this day to find new clients.



The formula taught by our fearless leader Lola that has made us one of the longest-running studios in the world.



Break those fears of selling and learn how to negotiate a deal like a pro.

 

All the tricky questions you'll get asked during the sales process.

 

Want to get signed by an agency or work for a design studio? We share the exact scripts to landing a deal.

 

The all-important legal terms you need to cover yourself and your work.
"Honestly you guys are truely the best!  I have not one complaint about  Longina Phillips Designs"  from our Los Angelas Agent
"Thankyou for sharing the knowledge and experience you gathered along years of hard work! Lola is an amazing role model for us women entrepreneurs!!" Paula Ortiz
Custom work
The exact steps you need to take to ensure your client has a "WOW" experience with you.

 

What to deliver to ensure every first time client becomes a long term buyer. 

 

The streamlined approach to onboarding.

 

Managing and delivering on a custom job, that not only saves you countless hours but makes you look uber professional. 

 

How to protect yourself from difficult situations with clients.

 

The exact scripts to handle customer complaints and chase overdue payments. 
"I'm happy to report that after doing a Print School course, one of my paisley designs was licensed through Patternbank" Claire
"Our business has worked closely with Longina Phillips for over 25 years. Their team of skilled artisans are incredible at what they do. Longina Phillips Designs is always ahead of trend forecasts. They have a huge library of distinct prints and commissioning custom works is handled flawlessly. Since my appointment as CD, I only work with LPD designs"  Oz Swim
"I decided to run my online studio last year. I set my goals and I've worked full-time in my project for a year. I started to feel upset and dissatisfied as I didn't reach the goals I set. I was looking for extra help and like a miracle, I found this course in my inbox.
I decided to invest in this course and now I know what I'm doing well and what I can improve on. The course has invaluable information and the Longina Phillips' team is amazing. They reply so fast and provide a lot of information and, the best part, they are not afraid to share their own experience. And that's incredible! They are also so kind and human.
I'm happy for investing in this course."  Sabrina
Ok, so how much is my investment?


Here's the thing, we've had people asking us for YEARS to teach them exactly what makes LPD the Industry leaders for 30 years, and how we've been able to work with your favourite brands like Givenchy, Zara and Ralph Lauren.

To be honest we've been doubtful about whether we really want to share this information at all.  After all, it's the exact processes that we still use to this very day.

But what we love most, is helping the next generation of designers to live out their design dream. So we've decided to share this previously money-can't-buy info at a price that we hope that most designers will be able to afford, without diminishing our own 30 years of hard work.

So if you're reading this page right now, it means you have access to this special one-time-only price.  As this is the first time we're running it, we've made the price as affordable as we can.

This is the kind of investment that will reward you for years to come as you build your own successful design business. 
Is this what you're looking for?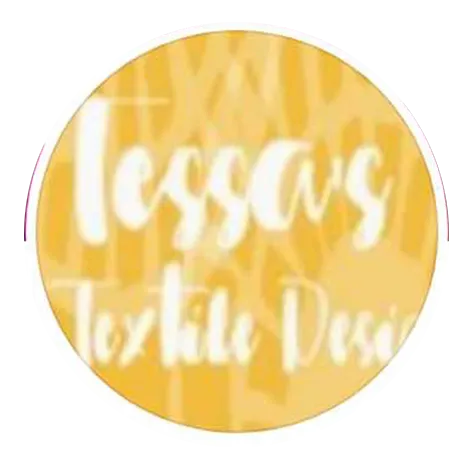 "I really want to take my time with this course. This is no ordinary course and Im not learning from just any design studio, Im treating this like a precious jewel, because it is! Purchasing this course is to me like purchasing gold"
Tessa, USA
"So far the course has been AMAZING. The most important thing I value is the calls every month - its really pushed me to follow through.  The other students have questions I didn't even know to ask and its cool to see other people pushing towards the same goals."
Summer, USA
So why should you learn how to build a profitable surface design business from us?
There is simply no one else in the entire world who has reached the levels of our success that is now teaching the next generation.



The Longina Phillips design studio sells to over 200 clients across 35 countries spanning every corner of the globe.



Our designs sell to all of your favourite brands including fashion brands like Prabal Gurung and Givenchy, Home and Lifestyle brands like Anthropologie and Sheridan and so many more.



Our designs have been showcased on every catwalk around the world from Paris to New York, London to Sydney.

 



We've had our prints photographed for the cover of Harpers Bazaar, Vogue and Elle, and we've spotted everyone from Sarah Jessica Parker to Miranda Kerr wearing our florals. 



 

As one of the top five working textile studios in the world, we've curated a global team of the very best industry experts. 

 

Your instructors bring with them decades of print, design, art, sales, marketing, and business knowledge providing you with an unparalleled opportunity to learn from the best.
So if that's where you are now, then you should join us inside of the Comprehensive Business Builder for Surface Designers and let us help you become the next design sensation.
And the best part is, we started exactly where you are today.




 
Longina Phillips Designs was started by our fearless founder, Lola in 1998 with one computer, a whole lot of vision and a ferocious passion for print. 
Speaking of Lola, did you know that when you join The Print School she 'links' with you in Linkedin?  Yep, a lifeline to the big boss herself!
Sara, Head of Design
As Lola's daughter, Sara has grown up in the studio, she also lives and breathes print. She's run her own fashion label and has a homewares side business so she is an expert on setting up a business from scratch plus the ups and downs of being a business owner.
Bec, Creative Director
Bec has a background in fashion design, working for multiple product types  including womenswear, kids wear and swimwear, before finding her love of pattern. She deals with both designers
 

and

 

customers, so she's over all sides of the business.  She's also seen 100's of portfolios over the years, so can pick a great designer at a thousand paces!
Longina, Founder
Lola has a degree in Graphic Design, but is first and foremost a risk-taker and dives in with 100% determination!  With over 30 years of industry experience, Lola has been thru all the ups and downs of being a business owner. She's also a sharer, ask her anything and you'll get the goods!
How this course will pay for itself
Let us show you what's waiting for you when you join the Comprehensive Business Builder For Surface Designers.
You're on your way to setting up a million dollar business just like ours!
Put your mind at rest with a money-back guarantee.
Your Happiness Guarantee is a 100% risk-free investment.
We know that the strategies you'll learn in this program work and that they have the power to transform your love of surface design into a professional business. We want you to feel really good about making this investment in yourself and your future. 
That's why we offer a 30-day 'Do The Work' money-back guarantee. That's how confident we are in the quality of this program. 


The five modules of the Comprehensive Business Builder will completely transform the way you approach your business but that's only the beginning! 
When you join us inside you also get three additional bonuses including direct access to the LPD Studio, to make your progress even faster and your success even easier with tools that simplify everything.
BONUS #1: Our Private Community of Design Besties

 

($699 Value)



 
What we know about the Surface Design Industry is that it's really difficult to get trusted advice when you need it.





There is no resource or person you can go to when you have a niggly question about a job, or a client has asked you to do something and you're not 100% sure how to do it!





Well, that has all changed now, thanks to the most supportive community of designers you will find online.
BONUS #2: Plug and play templates, cheat sheets, and scripts

 

($2199 value)



 
These are the exact documents that the LPD team uses in our business to this very day, but they sure didn't look or sound this good when we started.





These templates, cheat sheets, and swipe files took us 1000s of dollars, and many, many years to perfect.





They include the terms and conditions you need to protect yourself on quotes, invoices and contract of sale.  The exact questions you need to ask when taking a design brief, including a new client questionnaire form, plus the legal rights you need to protect yourself from copyright claims (trust us when we say, you don't want to learn this one the hard way!)
BONUS #3:  Personalised coaching directly with the LPD Studio  (Value: Priceless)

Here at LPD we're so dedicated to supporting you to achieve your design dreams that for the first time ever, we're serving you in a more intimate and personalised way.





When you sign up to the Comprehensive Business Builder for Surface Designers you get direct access to the entire LPD design studio holding your hand, answering your questions and providing much-needed feedback on your work.





This is the accountability, laser-focused strategy and crystal clear direction from the Industry leaders, with our eyes on your business every single month in a group live coaching call.





Whether you need help managing a tricky client situation, or want to know the best way to pitch your dream brand, you get access to us every month for 6 months. 





This alone is worth more than the entire price of the course. 
"I had been struggling to find this information, so was delighted when this course was released, and it didn't disappoint. The course was comprehensive and included lots of insider tips that just aren't available anywhere else."



Julie
"Being industry run is what sets these classes apart.  They give you a real insight into how a textile design studio works."
Danielle
Did we mention you're graduating with an Industry Recognised Certificate of  Surface Design?
"OMG! Getting a certification from the top design studio in the surface pattern and print industry! - Tessa Hall.
Have a question? Here are the most commonly asked:
When does the course start and finish?
How do I access my courses?
How long do I have access to the content?
How much time will this take?
How quickly will I see a return on my investment?
Is there a guarantee this will work for me?
Who is the Comprehensive Business Builder for?
I'm already a working designer, will I learn anything new?
Why can't I sign up right now?
Why can't I see the pricing information?
Can't see your question? Find more answers here!
Here's what you'll be getting when you join us in the Comprehensive Business Builder for Surface Designers.
✓ CONTENT this is the actual stuff you need to work successfully in the Industry.  
There are 27 lessons across 5 modules, delivered via videos and templates, that you can go back to again and again. 
(Value $10,000)
✓BONUSES: Our supportive community combined with our done-for-you templates will help you build a professional brand that will drive customers to you.  
(Value $3,000) 

✓FAST TRACK YOUR SUCCESS: Our monthly live coaching calls where you get direct access to the Longina Phillips studio will ensure you fast track your business success while helping you to avoid the common pitfalls that new designers face when building a profitable business. 
(Value Priceless) 
✓PROVEN STRATEGIES TAUGHT BY LEADING INDUSTRY EXPERTS: The most important thing for us is that we've been in your shoes, and we know exactly what you need to succeed. 
(Value $3,000)

✓CONFIDENCE & MOMENTUM: You will be amazed at what you can achieve, the abundance you can create, and the incredible changes it will bring to your business and your life.  
(Value: Priceless) 

✓INDUSTRY RECOGNISED CERTIFICATION: All of this in addition to graduating with an Industry Recognized certificate of professional surface design.
(Value: The Sky's the Limit!) 
THAT'S OVER $10,000 OF PRICELESS RESOURCES AND EXPERT ACCESS
It's time to stop postponing your success and start taking action on creating the kind of business (and income) you truly want. 
Imagine how you'll feel when you're waking up every day, excited at the prospects that lie ahead!
Just like our Print School students:
Rebecca
"

Before I started using the courses I was very much winging it. Now I feel like I can create what I have in my mind rather than being limited to what I can actually achieve. I have confidence and clarity when designing."
Maria
​​"There has been so little online which trains textile designers for industry, particularly for freelancers. It is such a positive move for your company to make the Courses it does come across really professional and you have thought of all the detail of different steps."
Courtney
"

One thing as a designer you should do is never stop learning!  I am a professional freelancer, but i purchased the LPD training videos as i wanted to learn and refine my skills.  The courses at LPD are the best, you will not find better out there."

 
Evette
"

The instructors were fantastic- so supportive, welcoming, helpful and kind

."
THE CHOICES YOU MAKE TODAY DETERMINE YOUR FUTURE
If you already know that you want to turn your design dreams into your big business goals then the choice is obvious to join us inside of the Comprehensive Business Builder for Surface Designers and start your transformation to becoming the successful Surface Design CEO that you know you are meant to be.

Join us now and turn your design dreams into big business reality.
We can't wait to welcome you to the ever so stylish family.
SIGN UP NOW